Pastor Dave Hildebrandt was presented as a lead pastor candidate on Sunday, October 22. After delivering a message on living a fearless life, a congregational vote brought in a unanimous 100% stamp of approval from the present members and Dave was extended the offer of the Lead Pastor position.
We are so excited to announce that Pastor Dave—together with his three boys, Josh (9), Andrew (7), and Caleb (4), and his wife of 12 years, Shannon—has accepted the call and will be assuming the role of Lead Pastor at HMC as of January 1, 2018.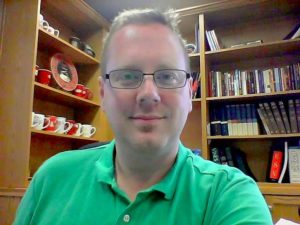 Dave is leaving his position at Port Rowan Mennonite Brethren Church, where he has been serving as the pastor of youth ministries. Prior to that, he spent time working with 100 Huntley Street on the 24 hour prayer lines, was the sole pastor at a church in rural Saskatchewan, and was a worship ministries director before that. Dave has attended Columbia Bible College in Abbotsford, BC, and Briercrest College in Caronport, SK. He is presently working towards his Masters of Divinity through Heritage Seminary in Cambridge.
Dave is passionate about communicating the Word of God in a life-changing way, caring and encouraging those who are hurting, empowering and equipping people to serve in their God-given areas of gifting, seeing people understand who they were created to be in Christ, and loves seeing the church fulfil the purpose that God has laid before it.
Please be praying for Dave and his family as they wrap up their ministry in Port Rowan and begin a new chapter with us at HMC. Pray that they would find the housing they need, that the boys can settle well into a new school system, that God would give clear direction to Shannon regarding employment, that Dave would feel settled and encouraged as he starts leading our congregation, and pray for the current staff team as they prepare to welcome a new team leader.
We wish to extend a gracious thank you to the members of the search committee, for their tireless work in the face of many hurdles. Thank you to the warriors in our congregation who kept the needs of HMC at the forefront of their prayers — please don't stop! And we give thanks to God for His continued blessing, for the reminder that we are not far from His sights, and for His constant and unfailing grace.