David Sparrow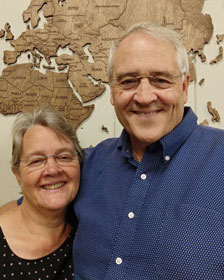 David Sparrow was born in South Africa and grew up on a mission station in Zambia. He is a third-generation pastor, his grandfather having moved from London, England to Port Elizabeth, in South Africa. His parents Gerald and Olive were called to missions and served for 44 years in Africa.
David matriculated from Treverton College and shared in a ministry team with Baptist Youth of South Africa before doing military service for 2 yrs 9 months where he was honourably discharged with the rank of second Lieutenant. He then went to work in a bank as a loans clerk before returning to Baptist Youth of South Africa. During this time he married his lovely wife Ann and they continued in this ministry before moving back to his alma mater where he began to teach being invited back without qualifications of any kind. 
While teaching, David read for a Bachelor of Arts degree and went on to study theology where he received his Bachelor of Theology honours. During this time David was privileged to enjoy a wide itinerant ministry, serving churches. After sixteen years at Treverton College as the director of Christian Ministry he was called to Don Valley Bible Chapel in Toronto as their senior pastor. 
He moved his family of four boys together with Ann where he pastored Don Valley Bible Chapel, in Toronto. After 8 yrs 5 months he served with InterServe as the National Director before moving to Fair Havens Community Church where he has served since 2009.
Today David has a passion for Christ our Life!  He has a yearning that every believer would come to know Jesus as abundant Life (John 10:10b); living energized and led by the Holy Spirit where Jesus pulsates, saturating every fibre of our being, flowing through us to a society that is lost without Him.  He invites you to join him on a glorious journey to the cross and into the land of God's blessing where we might bring God great glory and enjoy Him.
contact: david(at)hanovermissionary.com