CONNECTING MINISTRIES
Each of us is on a spiritual journey.  No matter where you are in your journey, you are welcome to get connected at Hanover Missionary Church.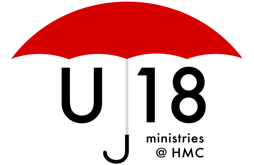 In our U18 MINISTRY we are committed to partnering with parents in our shared role of helping children and youth know, love, stand up for, and bring others to Jesus.  Programs we offer to families, children and youth include NURSERY (a caring and enriching environment) and HMC KID'S (a whole new interactive learning experience) on a Sunday morning.  We also offer the MID-WEEK program, through which we raise spiritual champions, and MOM'S and TOT'S, a ministry to young mothers and their children. We are also committed to offering a variety of programs for youth of all ages and interests.  Mid-week gathering for JUNIOR and SENIOR Youth are action packed with live music, games, videos, teaching, discussions, sports, and of course, lots of snacks!  Youth from all walks of life will find these gatherings interesting and challenging.  In addition, we have YOUTH G2G GROUPS for Junior Youth during our 10:45 Sunday service for a more in-depth and personal experience.

In our G2G GROUPS we are committed to connecting lives together.  We aren't designed to go it alone, especially when it comes to our spiritual growth!  It's about relationships with God and others.  Our groups meet at different times and in various places.  Biblical truths are discovered and discussed; prayers are also offered and answered!  Get connected!