Our apologies. Due to some technical difficulties we do not have a video for this sermon. Don't let that stop you from getting caught up though!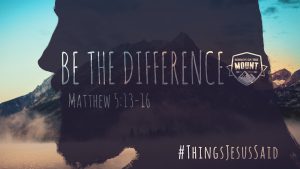 Matthew 5:13-16
New International Version (NIV)
Salt and Light
13 "You are the salt of the earth. But if the salt loses its saltiness, how can it be made salty again? It is no longer good for anything, except to be thrown out and trampled underfoot.
14 "You are the light of the world. A town built on a hill cannot be hidden. 15 Neither do people light a lamp and put it under a bowl. Instead they put it on its stand, and it gives light to everyone in the house. 16 In the same way, let your light shine before others, that they may see your good deeds and glorify your Father in heaven.
Key Idea:
Live boldly for Jesus and be the difference.
1) Faith: Don't water it down (5:13)
2) Faith: Don't be ashamed of it (5:14-15)
3) Faith: Honour God with it (5:16)
SO WHAT?
If you love Jesus, you are the experience of Jesus that people see and hear. Do you know this in your head or do you own it in your heart?