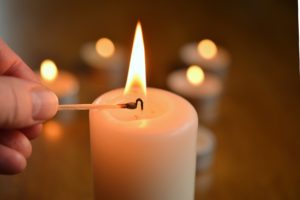 This Christmas Eve we light the white candle. This is the Christ candle. His candle is brighter because he is the light of the world! Our hope, our life, our King and our Saviour has finally come!
Luke 2:1-7 says: In those days Caesar Augustus issued a decree that a census should be taken of the entire Roman world. (This was the first census that took place while Quirinius was governor of Syria.) And everyone went to his own town to register.
So Joseph also went up from the town of Nazareth in Galilee to Judea, to Bethlehem the town of David, because he belonged to the house and line of David. He went there to register with Mary, who was pledged to be married to him and was expecting a child. While they were there, the time came for the baby to be born, and she gave birth to her firstborn, a son. She wrapped him in cloths and placed him in a manger, because there was no room for them in the inn.
He became one of us:
The Word became flesh and made his dwelling among us. We have seen his glory, the glory of the One and Only, who came from the Father, full of grace and truth. (John 1:14)
The apostle writes about the amazing humility of His love:
For you know the grace of our Lord Jesus Christ, that though he was rich, yet for your sakes he became poor, so that you through his poverty might become rich. (2 Cor 8:9)
The birth of Jesus was just the beginning. No one else has ever had the impact of Jesus, He has changed history and is continuing to change it. We celebrate the gift of life and hope. We light candles because God has split the darkness. We bring gifts because God has given his Son to us.
Jesus, you are the Father's greatest gift. Your teachings, your life example are precious. Your death in our place is beyond price, for we have not been redeemed with silver and gold but with the precious blood of the Son, the Lamb of God. Your resurrection has broken the sting of death. And the gift of Your Spirit leads and guides us through the days of our lives, until at last we are carried into your eternal presence. Jesus, we celebrate your birth, the fulfillment of the ancient Promises of God. You are our hope, our joy, our life, our everything. We love you, Lord. Amen.
Let's celebrate!