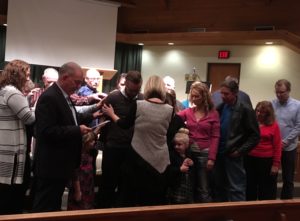 On Sunday, November 19, we were privileged to watch as Pastor Amos was honoured with Ordination through EMCC. According to the EMCC website, the Ordained Minister Credential is 'granted to licensed ministers who have developed a proven track record of leadership, integrity and doctrinal soundness, and who, after at least 2 years of proven service, are put forward for Ordination by their congregation.'
Amos explained it well when he said,
I think it's a relationship. It's a relationship that a pastor has with his congregation…my children were born here and raised here; I feel like I've grown up here, and I've found confidence here; I'm in relationship with many of you – most of you – all of you to varying degrees…and that's very, very special.
The ordination was followed by a unique sermon presented by our Regional Minister, John Cressman, celebrating Amos' gifts of creativity and challenging the whole congregation to embrace the creativity within themselves.