Summer Slam 2019:
THE BOOK OF REVELATION
the beginning of the end & in everything a new beginning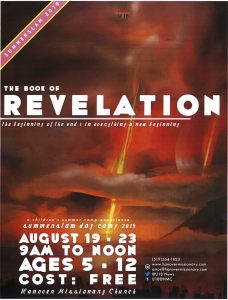 August 19-23, 2019 from 9:00 a.m. – noon for children ages Sr K – Grade 6 (ages 5-12)
FREE!
Our Summer Slam programs are always a dynamic time of Biblical teaching, crafts, music, snacks, and games.
Registration forms are available in the church foyer, you can download one here, or we now offer ONLINE REGISTRATION – fill out the online form and it will come directly to the office.
all volunteer helpers are trained and screened
---
Thank you to everyone for a great week last year! And thank you to all the wonderful people who made out Summer Slam program a huge success!