We have a group of people feeling an urgency to pray for HMC. We know there is prayer happening in almost all of your G2G groups. A list of prayer requests specific to the needs of HMC has been prepared. It is intended to be a dynamic, living, changing document and can be found below.
Sign up to have daily prayer requests delivered to your email address every weekday morning as a reminder to keep our church in your prayers.
Consider joining the gathering to pray at the front of the Sanctuary before the service on Sunday mornings.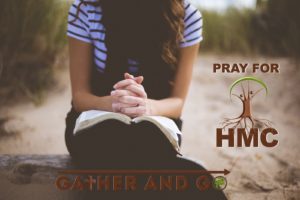 For great prayers of Confession and Intercession, look at these passages in the Bible: Exodus 32:30-32, Numbers 16:44-48, Nehemiah 1:1-11, 2 Kings 19:14-19, Psalm 51, Daniel 10:12-13, Jonah 2:1-10, Luke 11:2-5.
For great prayers of Surrender, no matter the cost, look at these passages in the Bible: Job 1:20-22, Job 13:15, Job 19:23-27, Matthew 26:38-42, Luke 22:41-44, Acts 4:22-31.
Turn from evil and do good;
 seek peace and pursue it.
The eyes of the Lord are on the righteous,
 and his ears are attentive to their cry;
but the face of the Lord is against those who do evil,
 to blot out their name from the earth.
The righteous cry out, and the Lord hears them;
 he delivers them from all their troubles.
The Lord is close to the brokenhearted
 and saves those who are crushed in spirit.
The righteous person may have many troubles,
 but the Lord delivers him from them all;
—Psalm 34: 14-19
1. Thank God for the Privilege of being a part of this church. Yes we have struggles. Yes we have difficulties. Yes we have disappointments. But we also have so much to praise God for. As you enter into a time with God on behalf of Hanover Missionary Church, bring to mind at least two things you have reason to be thankful for.
2. Thank God for opportunities to serve. At whatever stage of life you find yourself, young or old, God still has a purpose for you. Even on a bed of illness you can pray—perhaps the greatest service anyone can give to our church.
3. Pray for our Pastors, that they be Godly leaders. Pray that their leadership hold fast to the Bible as the source of truth. Pray that they be Spirit-led. Ask for protection for each one of them and their families. Pray for their physical well being and that their financial needs would be met. Pray that they will hold onto their joy in spite of everything they have to deal with in ministry. Pray that they will have the wisdom for the various situations they face. Pray that our pastors will find the time and space to stay refreshed, restored, recharged, rested, renewed, and rejuvenated.
Oh, the depth of the riches of the wisdom and knowledge of God! How unsearchable his judgments, his paths beyond tracing out!
"Who has known the mind of the Lord? Or who has been his counselor?"
Who has ever given to God, that God should repay them?"
For from him and through him and for him are all things.
To him be the glory forever! Amen.
—Romans 11:33-35
4. Pray for our Ministry Council. Ask God to give them wisdom as they make decisions for HMC. Pray that they be Spirit-led and filled with the knowledge of God. Pray that they be careful and prayerful listeners. Pray that they live lives of integrity among the church body and also among the wider community. Pray for opportunities to encourage and bless them and their families. Pray for frequent times of refreshment and renewal for them.
5. Pray for respect and love, even when we have unanswered questions. Pray that God would help us trust Him, even when we are disappointed with decisions others have made. Pray for the courage to work towards unity, whether or not our personal wish is for a different direction.
6. Pray for our Deacons. Ask God to bless them as they bless many among us. Pray for lives of integrity that display the love of Christ. Pray that their households would be places of peace and respect. Pray that they be Spirit-led in all they do.
7. Pray for our custodian. We have a big building with many activities happening on a regular basis. Much of what Marianne does is invisible—until the day it is not done. Pray for her. Thank her. Encourage her. Lend a hand once in a while.
8. Pray for our office staff. They are front and centre when people come into the church with special needs, or when any of us are upset about something church related. Pray for a gentle spirit when people complain to them about issues they cannot control. Pray for a spirit of unity between them and our Pastors, Ministry Council, and other ministries of our church.
For Requests 9 – 16, pray for a deep love and respect among all leaders for the children and youth they are working among. Pray for patience in the trying times. Pray for understanding of the struggles children and youth sometimes don't know how to express. Pray for wisdom, for sensitivity, for humility, for appropriate touch.
9. Pray for our Children's Ministries, that God would inspire the leaders and that the children's hearts would be drawn to follow Christ. Pray that the children would lead their unchurched parents and friends to know Christ.
10. Pray for our Sunday School teachers, that they be inspired by God and passionate about their roles as teachers, and that they be good Christian examples for the children to look up to. Pray that they would feel an urgency to regularly uphold their students in prayer.
11. Pray for our Youth Ministries, that the leaders and volunteers have a genuine love and concern for the youth. Pray for wisdom to deal with the multitude of problems youth face today. Pray for the ability to inspire trust in God and His Word. Pray for an increase in Godly volunteers and mentors who would be good examples to follow. Pray that the youth would learn to put God first in their lives
12. Pray for our LIT (Leaders in Training) group of senior youth, and their leaders. Pray for a solid grounding and a deep personal faith as they approach college and university days and consider lifetime choices. Pray that they would be excited about their faith and that their excitement would be contagious.
13. Pray for our Youth and Young Adults in college and university. Pray that the things they have learned would come to mind when the many voices of the world would pull them away from their trust in God. Pray that they would remain true. Pray that if they begin to drift, God's Spirit would draw them back.
14. Pray for our Children. Pray that the little ones remain humble examples of what we adults need to become in the kingdom. Pray that we would see them as God sees them. Pray that their conduct would show they remember their Creator God. Pray that they would grow to be increasingly excited about who God is.
He called a little child and had him stand among them. And he said: "I tell you the truth, unless you change and become like little children, you will never enter the kingdom of heaven. Therefore, whoever humbles himself like this child is the greatest in the kingdom of Heaven.
And whoever welcomes a little child like this in my name welcomes me."
—Matthew 18:2-5
15. Pray for our toddlers and infants. Pray for love and security in their lives. Pray for godly examples and for teaching that gives them a foundation in the things of God, whatever their home situation. Pray for the courage and the love to be a Godly influence in at least one young life.
16. Pray that our Children and Youth would get excited about prayer. Pray that their humble trust in God would become a challenge to us to pray and to trust more.
17. Pray for our Young Adults and Young Families. Pray for the strength and courage to hang on during tough times in their marriages. Pray for purity in a world that promotes sex without boundaries. Pray for wisdom as they enter the world of parenting.
I have been driven many times to my knees by the overwhelming conviction that I had nowhere else to go. —Abraham Lincoln
18. Pray for the courage to surrender our will to God for ourselves and for our church. We live in a very independent culture. Surrender, even to God, feels foreign to us.
Search me, O God, and know my heart;
Test me and know my anxious thoughts.
See if there is any offensive way in me,
And lead me in the way everlasting.
—Psalm 139: 23-24
19. Pray for Pastor Jason & Erica, Shawna & Elijah as they move into a new chapter of life. Thank God for Jason's educational opportunities. Pray for a long-term ministry placement for Erica before September. Pray for wisdom as they consider questions of moving or staying, where they will worship as a family, and schooling for the kids.
20. Pray for our Young at Heart leaders and members. Pray that we would be wise enough to tap into their wisdom and that they would be encouraged to share. Pray that whether strong and active or increasingly frail, their lives would be a testimony of the faithfulness of God. Pray for the measureless honour that one of them would take up the challenge of praying by name for you on a regular basis. Pray that we would find ways to express our respect and our love to them.
21. Pray for Good to Prevail over Evil. Pray for protection for our HMC church body from the attacks of the enemy. Help us be as wise as serpents and as innocent as doves as we deal with spiritual forces around us. Show us how to test every spirit to see if it is from God. Help us recognize the enemy's counterfeits and schemes so that he won't outwit us.
22. Pray for Support Ministries, that God gifted volunteers would take up the torch. Pray that we, as a church would be attentive to the needs in our community as well as in our church family.
23. Pray that we would hunger and thirst for the things of God—for righteousness. Pray that God would confront our complacency and somehow stir an intense desire in us to draw closer to Him.
24. Pray that we would learn to seek God with ALL of our heart, soul, mind and strength. Pray for a renewed hunger for His presence in our lives.
"When I shut up the heavens so that there is no rain, or command locusts to devour the land or send a plague among my people, if my people, who are called by my name, will humble themselves and pray and seek my face and turn from their wicked ways; then will I hear from heaven, and will forgive their sin, and will heal their land. . . but if you turn away. . . then I will uproot."
—2 Chronicles 7:13-14 & 20
25. Pray for our G2G Groups. Pray that our leaders live Godly lives. Pray that they take great care with God's Word, and that the hearts of those in the groups would be fertile soil for that Word.
26. Pray for our HMC brothers and sisters, so that we will become encouragers and uplifters – strengthening our HMC family.
27. Pray that HMC stands fast in the Lord. Pray that our HMC family will be rooted and firm in our faith. Pray that we will grow in our knowledge of the Bible and our trust in God, so that false teaching and subtle sins cannot get a grip on our minds. Pray that the Holy Spirit be welcomed among us and His rebuke received as an act of love.
28. Pray for Unity in the Spirit. Pray that we will all have a similar desire to see God's will done through and in HMC. Pray against satan's tricks being used in our midst e.g hurts, anger, unforgiveness. Pray that we would keep our eyes on God's leading and trust Him to sort out the things we don't understand.
29. Pray for our Worship Teams. Pray for inspiration among music leaders that would help us prepare our hearts for worship. Pray that we would enter into song and worship, would consider the message, and would exalt our great God. Pray for more God-gifted volunteers who would lead in praise and worship and walk faithfully before the Lord.
30. Pray for our Prayer Ministry, to strengthen the leaders both physically and spiritually. Pray for sensitive to the leading of the Holy Spirit and the needs of the church. Pray for humility and boldness. Ask God to nudge others to join this ministry.
31. Pray for our Online Services, that those who view our online ministries would be receptive to the Word of God. Pray for the volunteers that are gifted in this area and that more would feel the desire to step forward to help.
32. Pray for each one who attends HMC, that we would be learning spiritually to be followers of God, equipping us to go out and make disciples in the world.
33. Pray for our finances, that giving would be faithful, as well as joyful, consistent, and sacrificial, and that our monthly needs be met. Pray that the Holy Spirit would keep reminding us of God's promise to throw open the floodgates of heaven and pour out blessing on all who bring the whole tithe into His house.
34. Pray for our Lead Pastor Search Team, that their search process and decision making would be Spirit led as they search for our new lead pastor. Pray that each member of the team would be gifted with Godly wisdom and discernment. Pray that they be sensitive to the leading of the Spirit guiding them to the pastor God has chosen for us.
35. Pray for our Seniors. Thank God for every gray hair attained by righteous living. Pray that they be willing and Godly mentors, so that all can be blessed by their Christian example and ability to train us. Help us to be humbly submissive as we benefit from their wisdom and understanding. Pray that they receive the strength and power God promised to the weary and weak. Pray that they will put their hope in the Lord and be renewed in the process.
36. Pray for Men in Action. Pray that this ministry will build our men in their faith. Pray that they will be in right relationship with God and each other. Pray for men to love their wives as Christ loved the church, and to instruct their children with patience. Pray that they would hold each other accountable and support and encourage each other.
37. Pray for our Behind-the-Scenes Workers. Thank God for every preschool/nursery worker, coffee/ facilities/ mission planning/ bylaw/ policy/ finance/ discernment/ personnel/ team member, custodian, etc. devoted to serve. Pray that God would bless them for their obedience and generosity and keep them in an attitude of humility.
38. Pray for HMC in the world. Pray that we would be known as distinct from the world in love and holiness, even as we engage outsiders. Pray that many among us would share the gospel this week—and see people come to know Christ! Pray that if persecution comes, we would remember to love, not curse, and to pray for our enemies.
39. Pray for the spiritual temperature of HMC. Pray for God to revive us and refine us so that we burn hot for our heavenly Father. Pray that we may never be accused of being lukewarm. Ask God to give us singleness of heart and open minds to understand His Word so that our hearts are on fire for our great God.
"I know your deeds, that you are neither cold nor hot. I wish you were either one or the other! So, because you are lukewarm—neither hot nor cold—I am about to spit you out of my mouth. You say, 'I am rich; I have acquired wealth and do not need a thing.' But you do not realize that you are wretched, pitiful, poor, blind and naked. I council you to buy from me gold refined in the fire, so you can become rich; and white clothes to wear, so you can cover your shameful nakedness; and salve to put on your eyes, so you can see.
—Revelation 3:15-18
40. Pray for our Missionaries in other parts of the world. Pray for sensitivity to the culture. Pray for wisdom with language issues. Pray for physical and spiritual safety. Pray for family dynamics, whether close to home or far away.
41. Pray for our Missionaries on Canadian soil. Pray that their ministry would be recognized as valid and vital. Pray for sensitivity to the people they are working among. Pray for understanding and compassion for the reasons they are regarded with suspicion. Pray for patience for the long, slow process of building trust. Pray for integrity in day to day living.
42. Pray for a deep love for Hanover Missionary Church. Ask God to help us always strive for His best for the church. Ask Him to help us be unifying forces. Ask Him to help us be encouragers.
"I have loved you with an everlasting love; I have drawn you with loving kindness.
I will build you up again and you will be rebuilt, O Virgin Israel.
Again you will take up your tambourines and go out to dance with the joyful."
—Jeremiah 31:3
43. Pray for the courage to consider fasting. "Even now," declares the Lord, "return to me with all your heart, with fasting and weeping and mourning. Rend your heart and not your garments. Return to the Lord your God, for he is gracious and compassionate, slow to anger and abounding in love, and he relents from sending calamity." Joel 2:12-13
44. Consider fasting in a broader context than just food. The discipline of saying NO for a short time to something we cling to makes saying NO to other things easier. Think of coffee, chocolate, TV, computers, I-Phones. If you have never fasted before, try a 12 hour fast initially. Spend a moment or two in prayer each time the craving pulls. Although it is ideally a private decision between you and God, challenging one or two others to team up with you for the same time period can be helpful.
45. Pray for God to raise up Leaders among us. Pray for people willing to take up the challenging task of serving on Ministry Council. Pray for sensitivity to God's leading in our own lives and anything He would ask us to do for our church.
46. Thank God for the privilege of prayer. Take a few moments to reflect on the implications. The Creator of the Universe knows you by name. He is slow to anger and abounding in mercy. He loves you with an everlasting love. He invites you to come into His presence.
47. Pray for the courage to let God use us as part of His answer. Obedience to the nudging of the Spirit is sometimes costly. God has proved Himself trustworthy, but still expects us to step out. Pray for the courage to obey even when we are terrified.
48. Pray for a growing love for God. Pray for a deeper sense of His holiness. Pray for a boldness to come into His presence, but at the same time an awe for His majesty; a recognition of His glory.
49. Pray for our Shut-ins. There are those of our number who find themselves unable to join in many of our activities. Pray for them. Encourage them. Consider a phone call, a card, or a visit.
50. Pray for any of our number struggling with illness or injury. Pray for God's provision when work schedules are interrupted. Pray for marriages and families when normal routines are disrupted, and when finances may be short.
51. Pray for Pastor Amos and Pastor Lyndsay. Pray for wisdom to know how to pray for them. The transition for them is different in significant ways from the transition for any of the rest of us.
52. Pray to increase our desire to seek God and come together as a church body. Pray for a renewed hunger to study the Bible and seek Him in prayer. Pray that we would begin to see the Holiness of God and the hatefulness of sin in a deeper way. Pray that we would become passionate, desperate, to know God better.
53. Pray for those who have left our congregation because of wounds and disappointments. Pray for their healing. Pray that they would find a place of worship where their talents and gifts can be used, and where their spiritual needs will be met.
54. Pray that "Missions" would be more than just a part of our name. Ask God to give us a passion for those who do not know of the love of Jesus. Pray for a passion that sees the lost among our neighbours and the lost across the globe as people we are called to reach out to.
55. Consider prayer partnerships. The Bible says: "Again, truly I tell you that if two of you on earth agree about anything they ask for, it will be done for them by my Father in heaven. For where two or three gather in my name, there am I with them." Romans 18: 19-20
56. Pray for Peace, individually, within our families, within our church and for the world.