Monthly breakfasts, weekly G2G Study, and other events throughout the year.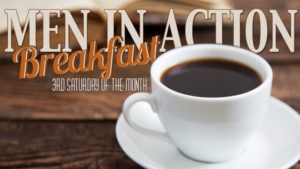 Breakfast/Work Bee – Saturday, April 21 — The church facility team is asking men to be involved in the annual spring cleaning, which primarily involves sweeping the parking lot. Join in for breakfast on Saturday, April 21 at Cravings Restaurant at 8:00 a.m. and then head to the church shortly after 9. Let Mark Webb know if you're planning to be there..


Beginning April 12 the men will be watching a video from Promise Keepers during their Thursday night get-togethers. Meet at 7:00 p.m. in the upper room. Discussion will follow. Coffee will be provided.
Connect with Gord Cox or Mark Webb for more information.