Check this page often to see what's coming up at HMC
---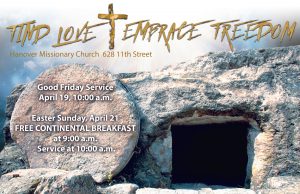 ---

There will be a Ladies Social on Tuesday, May 14 at 7:00 p.m. Cindy King from Paramed Services will share info about services available to us.
View our calendar
EVENTS: QUICK GLANCE
REMEMBER: Every Sunday morning at 9:30 a.m. a group comes together in the Gathering Room in the east hallway. Consider joining them. We want to be a church that prays together!
CLICK HERE for all our other PRAYER INITIATIVES

Bulletin folding with Pastor Dave Every Friday at 1 p.m.
Ladies Social May 12
Young at Heart May 14
Youth Phoenix Fest May 17-20

OTHER NEWS/EVENTS:
A Lawson's Christian Supplies Pop-Up Store is coming to Hanover! As part of a fundraiser for the Salvation Army's Projects in Mozambique, Lawson's will be open from 9:30 a.m.-2:30 p.m. on Saturday, April 27 at The Salvation Army 581 12th Street. Light refreshments will also be available for a free will donation.