"I thank my God every time I remember you. In all my prayers for all of you, I always pray with joy."  — Phil 1:3-4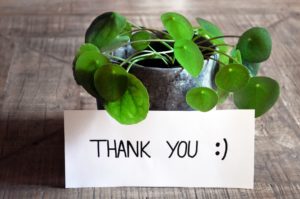 Dear congregation of Hanover Missionary Church,
This month, we are in a month of thankfulness, where each week, we pick something different at HMC to be thankful for. I want to start the month by telling you how thankful I am for you as the congregation.
First of all, thank you for the way in which you have received my family and I just over 9 months ago. Your love, warmth, and acceptance has made this change a good one for us. We are thankful to be able to call you our church family.
Thank you also for supporting this church by attending, giving, praying for the church, and serving in it. There is are so many things that happens in this building from week to week that need your participation, and even with all the new things launching, you have risen to the challenge. Thanks for supporting the leadership as we lead, and being involved here. We can not do this without you.
Know that you are loved, you are prayed for, and you are appreciated. Thanks for being a great church to lead and be a part of!
Pastor Dave (and the team!)
#HMCMonthofThanks