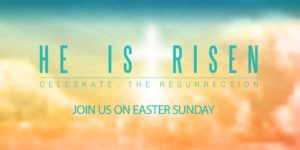 Hey Everyone!
Easter is quickly coming upon us, and if you are like me, you are getting excited for the service Easter Sunday morning!  I love the celebration of the reality that Jesus did not stay dead, but He is alive, giving new life to all who will accept it!
Easter is a great time for new faces to check out our church.  Easter is one of those seasons where guests are more likely to accept an invite.  So I want to encourage you to do four things this Easter that will help our guests feel welcomed here at HMC:
1) Invite your friends!  If you want them to feel welcome here, they first need an invite.  And everyone loves a good celebration.  What a great day to invite your friends to be a part of!
2) Park with your heart:  Someone told me this phrase this week, and I love it.  Serve our guests from the heart by where you park.  Our parking lot is getting full, so if you can park in the far away spots, or maybe on the street to make room for our guests, or even walk to church if the weather is nice, that would go a long way in creating space for our guests.
3) Find new faces and genuinely welcome them:  If you see new people in the church, go over and say hi.  This doesn't have to be weird, or overdone, but go over and introduce yourself, and welcome them here.  And be ready to answer any questions they may have about where they need to be in our facility.  Being new is a scary thing, but a warm welcome quickly makes people comfortable.
4) Make space in our space:  When you have guests in your home, you make space for them.  Maybe you give up your favourite chair or spot so that they can be comfortable.  Our church is also our space that guests are coming into.  Our space is looking more full each week, and will be even more full this weekend.  With that in mind, please (if you are physically able), make room for those coming in by moving to the centre of the rows of seating, leaving the empty spaces on the aisles so that open seats are easy to find for our visitors.  It has been said that once your church appears to be 80% full, visitors feel like there is no room for them.  We would never want our visitors to feel like there is no room for them to join us.  Please open up space by moving in.
Breakfast is at 8am until 9:30 Sunday morning, and our service will start right at 10am.  It will be an exciting service right from the start, so make sure you don't miss it!
—Dave