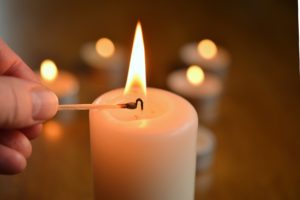 Today we light the pink candle known as the 'Candle of God's Love.' It is a lighter colour than the others because it symbolizes the effects of God's love. The darkness begins to give way under the impact of God's gracious act. The Light of His love has come to us. Now let the light of His love shine in us and through us.
The Apostle Paul wrote about the connection between hope, love and the work of the Holy Spirit
Hope does not disappoint us, because God has poured out his love into our hearts by the Holy Spirit, whom he has given us. (Rom 5:5)
In 1 John 4:7-12 The Apostle John reminds us:
Dear friends, let us love one another, for love comes from God. Everyone who loves has been born of God and knows God. Whoever does not love does not know God, because God is love. This is how God showed his love among us: He sent his one and only Son into the world that we might live through him. This is love: not that we loved God, but that he loved us and sent his Son as an atoning sacrifice for our sins. Dear friends, since God so loved us, we also ought to love one another. No one has ever seen God; but if we love one another, God lives in us and his love is made complete in us.
Lord, thank you that Your gift of love entered the world in darkness and that you split darkness with the light of a star. You invites us to not be afraid. These Advent candles burning this morning remind us that fear is cast out as we enter into the radiance of His Love. Make your love to to shine in us and through us. Amen.