Sunday, November 11, 2018
With the dusting of snow we've already seen falling it's almost impossible to ignore the fact that Christmas is coming. Such knowledge brings with it a sense of wonder and excitement, imagining the ways in which we will gather with friends and family to celebrate. But it can also bring with it a sense of dread. The busyness. The expense. The pressure.
As you look at your calendars and make your plans, remember that first Christmas long ago. There was no garland or lights or grand dinner table. From the humblest of hovels, our Saviour entered the world, the light of His gift putting to shame even the most efficient twinkle lights!
Here at HMC we are planning A Simple Christmas season; a time of reflection, a focus on prayer, and a quiet calendar. We want to turn the attention back on what matters, away from the glitz, emphasizing simplicity over extravagance as we turn our focus from tinsel to straw.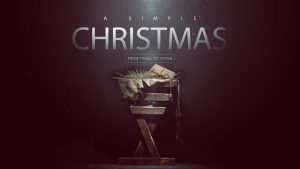 DECEMBER SAVE THE DATES
Wednesday, December 5 Help build Christmas Baskets/Hampers for the people of Saugeen First Nation and those in the hospital over the season 6:30 p.m.
Wednesday, December 12 Carol sing & sleigh ride 6:30 p.m.
Sunday, December 16 Pastor Amos will be leading a U18 Christmas service
Tuesday, December 18 – Thursday, December 20 Pastor Lyndsay will be setting up reflective prayer stations for you to experience at your leisure.
Sunday, December 23 Hang around after the service for a time of fellowship as we Build Cocoa Connections around a hot chocolate station.
Monday, December 24 Join us at 6:30 p.m. for a simple candlelight Christmas Eve service.